Module 5's Turning Fear into Fuel is one of the shortest modules of the LOYP course so far and there is probably good reason for it. Enough of all this self-help, motivational bullshit. Let's hold off more reading and all the talking for a bit. How about getting down to doing something about it now? Start somewhere. Start with the things that frighten you. Do the things that you never thought would be possible. Or at least try and see what happens.
For years since I entered the working world, exercise became something that happened only if I had the time, or if my other half had the time too. I started to feel out of shape and stopped feeling as good about myself. I even noticed I could not hold my breath for as long as I used to. But that was not enough reason to motivate me to go running or swimming. There was always some other excuse, like the haze or the time of the month. When I quit my job, I decided if there were changes I wanted to make to my life, exercising was the top of my priorities. I decided to sign up for the cheapest gym package out there as a financial commitment to start exercising again. For S$40/month, I could enjoy unlimited use of the gym facilities and classes. Just so you have an idea, this is one of the major gyms in Singapore with a couple of branches. When I first step foot into the gym, I was very uncomfortable with the number of people there and would often get lost trying to find my way to the right classroom. Attending a new class with 20-30 odd people mat-to-mat in a room (and who seemed to know what they were doing) intimidated the hell out of me. Ten minutes into any cardio workout would have me panting and sweating away, with thoughts of walking out. I persisted on for the next couple of weeks. Today, I realise how much I look forward to the exercising. Every drop of sweat and moment of body ache pushed me even more. It no longer mattered how full the class was and how crowded the gym would be. I would plan ahead for at least 2-3 visits to the gym each week, especially since the classes were often booked up fast. More importantly, I actually felt the difference in both my body and my mood with each week of exercise. Now, I can even laugh at myself when I fall to the mat from an attempted yoga pose.
In addition, I have also surprised myself recently with completing ten days of meditation with Headspace. This is one of the better meditation applications I have come across and I totally get why they charge a subscription fee. I am now tempted to pay for a gym membership for the mind, but have decided to do that only after I take home my first pay cheque. Thankfully, I have been generously given a month's free access so I can explore more cool stuff on Headspace. Meditation does not come easy for a restless mind like mine, but taking 10-15 minutes to do so every day is helping to cultivate my focus, and also allowing me to be more mindful of what's going on inside and outside of my body. This is a new habit I am trying to introduce into my daily life, and it's not as simple or easy to find that headspace to do it. Some mornings I procrastinate because I wake up with something else more pressing to do, or just because I do not feel like it in that moment. Today, the session took a couple of minutes longer than I remember it to be and in the midst of the silence, I actually opened my eyes to check if the application had stopped. It did not. Keeping the mind still and staying focused is still a real challenge, but more importantly, I have moved from just saying I want to do it to actually doing it.
Here are three more things outside of my comfort zone that I want to challenge myself to do by the end of 2015:
Go for a new gym class, one that involves dancing (I can't dance for nuts.)
Go vegetarian for a week (I once thought if there were anything I would never do, it would be to turn vegetarian.)
Attend a Toastmasters' meet-up (I hate public speaking to the core.)
These are baby steps that may or may not eventually lead us up to living off our passion, but they are necessary to help us move away from a life of fear, uncertainty and excessive talking (not doing). 
So, enough said. What are you going to DO now?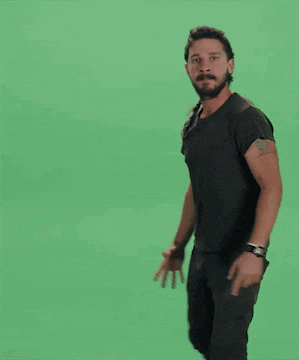 Credits for gif to http://giphy.com